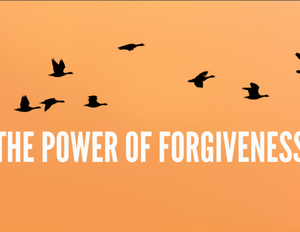 A 4-Week Unit On the Power of the Words "I Forgive You"
(Part of our Crossroads 7th-12th Grade Curriculum)
 Suggested Calendar: February 6-27
"I forgive you" are three simple words that carry with it extreme power. Christians know they are "supposed" to forgive. But sometimes this is easier said than done, especially if the hurt is not gone yet, if the other person is not sorry, if the other person had hurt you before (a repeat-offender), or if the other person does not know they hurt you.

This month, we hope to clear up some misconceptions of this concept of forgiveness and explain why forgiving someone makes you ok even if it does not make it ok.
"Bear with one another, and forgive one another, if anyone has a complaint against another; even as Christ forgave you, so you also must do." Colossians 3:13