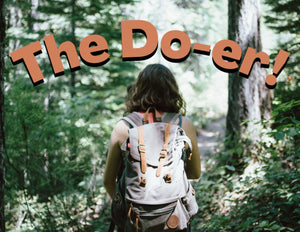 A 4-Week Biblical Study Unit on Nehemiah and the Difference Between "Do-Ers" and "Talkers"
(Part of our Crossroads 7th-12th Grade Curriculum)
Suggested Calendar: June 5-26
Have you ever met a "Do-Er"? Someone who has a knack for walking in a room, noticing everything, and immediately being "on it"? They see the spilled orange juice and immediately wipe it up. Or they notice there are packets that need to be passed out, so they get to work right away doing that. A "Do-Er" is someone who is "on it" for everything without anyone asking. What if this ability is actually more about training yourself to open your eyes and pay attention versus a natural ability? And, when it comes down to it, seeing what needs to be done is not just training yourself to see what needs to be done: it's actually getting up and doing something about it.
This month, we hope to convert a lot of teens into "Do-Ers" as we talk about the importance, in God's eyes, of taking initiative, seeing a need and fulfilling it before being asked. There is no greater example of this than Nehemiah. A humble cupbearer, with a love of his country and his God, he saw a hard job that needed to be done, and he got up and did something about it. Let's all strive to be more like Nehemiah and become the "Do-Ers"!
"And whatever you do, do it heartily, as to the Lord and not to men, knowing that from the Lord you will receive the reward of the inheritance; for you serve the Lord Christ." Colossians 3:23