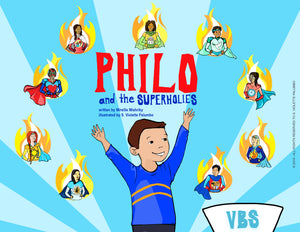 (Age Appropriate for Elementary Aged-Kids (Pathways and Arches))
Also Check out our FAQs page here
Bridges to Orthodoxy partners with Mireille Mishriky, author of beloved Children's Book series, Philo & The SuperHolies, to create a 5-day Vacation Bible School (VBS).  The program contains 5 days of Large Group and Small Group sessions for Kindergarten through 5th Grade. 
Each day focuses on one or two SuperHolies (Fruits of the Spirit) using a daily Bible Passage and Orthodox Saint story to build on the concepts.  Each day kids will also watch a video of Philo's SuperChallenge and help him by activating the SuperHolies!  This program includes carefully crafted lesson plans for each age group, games, activities, crafts, and so much more!  Check out the outline of a typical day here.  Check out a daily parent recap card here.  Want to see more of the program?  Contact us and we can send you some sample excerpts from one of the VBS days so you can see what the lesson plans look like!
NOTE:  While this VBS is based on the same characters as the book series, purchasing the books or even being familiar with the book series is not necessary.
Check out Mireille's website to see what posters, books, and other items she has that pair nicely with the VBS.