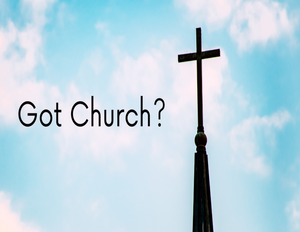 A 5-Week Unit On Getting the Most out of the Divine Liturgy
(Part of our Crossroads 7th-12th Grade Curriculum)
 Suggested Calendar: January 2-30
There are certain people (but nobody in particular) that may not "get Church." They may find Divine Liturgy to be somewhat tedious and even boring. What's really interesting is that you can find the opposite, too! There are people who DO get Church, who can't seem to get enough of Church, and who are even willing to die for their faith.
If you are one of those people that find church boring, you may wonder what it is you are missing about the Liturgy. There's got to be something really special about Liturgical worship to get such a passionate reaction out of so many faithful people over so many centuries.

That's why this month the teens will be answering a very important question in our new series: GOT CHURCH?
This month is all about figuring out what "IT" is that we might be missing–that factor that helps us experience a deep spiritual connection to God and keeps Church from just being another thing we do out of obligation, habit, or ritual. Through this unit, our teens will see that Church IS Unity with Christ–and there's nothing boring about that.
"And let them make Me a sanctuary, that I may dwell among them.'" Exodus 25:8.