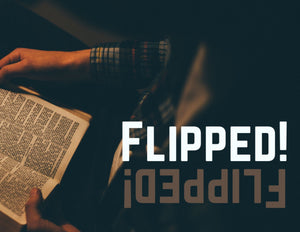 Month 1 of a 2-Month Lent Unit on How Christ's Teachings Flipped the World'a Rules Upside-Down
(Part of our Crossroads 7th-12th Grade Curriculum)
 Suggested Calendar: March 6-April 10 
 This Lent, we are going to look at Christ's teachings and how His way, His words, and His actions all focused on principles that are the exact opposite of the world's "rules." Jesus had a way of flipping the world's logic upside-down.  In the weeks leading up to the Resurrection, we hope to show our teens the world through Christ's eyes.  We hope it flips their world upside-down because when things are FLIPPED, we care more about God's praise than man's praise, we love our enemies, we celebrate mercy over justice, we find hope in hopeless circumstances, and we choose others' comfort over our own.
"Do not think I have come to abolish the Law or the Prophets; I have not come to abolish them, but to fulfill them."  Matthew 5:17
**NOTE: Bundle discount pricing is available for this item if you wish to purchase both months at once. Keep in mind discount pricing is unavailable if you are using a Membership Code or other Discount codes.